Did you know that pumpkin is a variety of squash that people often think of as a traditional Halloween decoration or a Thanksgiving pie filling. The flesh of the pumpkin plant provides a range of health benefits outside of popular festivities or decorations. Among the benefits are:
It is one of the best known sources of Beta carotene, a powerful antioxidant that gives orange vegetables and fruits their vibrant color. We convert any ingested beta carotene into vitamin A.
Adding pumpkin to your regular diet is good for the heart. It is a great source of fiber, potassium, and vitamin C; all of which support heart health.
Pumpkins contain a wealth of antioxidants. Another benefit of the Vitamin C, vitamin E, and beta carotene is that they support eye health and prevent degenerative damage in older adults.
With the holidays are rapidly approaching this is a great time to fill your house with the aroma of fall with warm slices of this Pumpkin Loaf dolloped with butter. This will be a must have addition to your holiday recipes.
Find more seasonal dessert recipes at Culinary.net.
Watch video to see how to make this recipe!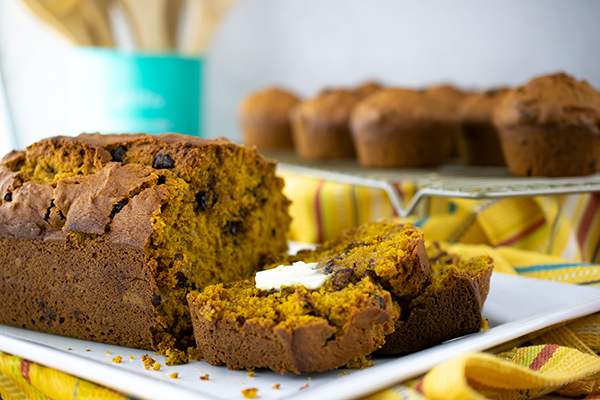 Pumpkin Loaf
Nonstick cooking spray
4 eggs
3 1/2 cups flour
2 teaspoons baking soda
2 teaspoons cinnamon
1 teaspoon nutmeg
1 teaspoon salt
2 sticks butter
2 cups sugar
1 can (15 ounces) pumpkin puree
1 cup chocolate chips
1 cup walnuts, chopped
Heat oven to 350° F.
Prepare loaf and muffin pans with nonstick cooking spray.
In bowl, whisk eggs. Set aside.
In separate bowl, sift flour, baking soda, cinnamon, nutmeg and salt together. Set aside.
In another bowl, cream butter and sugar. Add whisked eggs and mix until blended.
Alternately add flour mixture and pumpkin puree to egg mixture, beating until blended. Fold in chocolate chips and walnuts.
Pour batter into loaf and muffin pans. Bake 40-45 minutes, or until toothpick inserted into center comes out clean.
Cool 10 minutes before removing from pans.
SOURCE: Culinary.net