DNA testing is the most scientific and accurate way to prove that two or more individuals are biologically related. Since its introduction over 30 years ago, advances in DNA testing mean it is now accessible to everyone around the world. Today, individuals simply need to swab the inside of their cheeks to provide a sample of cells for DNA analysis. There is no need for needles and blood samples; it is a very simple and painless process. And yet, using a mouth swab on an individual can obviously raise some questions if it isn't clear why you need a sample of their cheek cells. Could there be an even more discreet method of sample collection? The answer is yes. Both toothbrushes and nail clippings have been proven to be good sources of DNA. A viability study is initially performed to ascertain whether a DNA profile can be extracted from the sample. If it can, any DNA relationship test can then be performed. This could be paternity, maternity, sibling, grandparent, aunt or uncle, or Y chromosome.
How does the process work?
When the toothbrushes and nail clippings are sent to AlphaBiolabs' laboratory for DNA testing the first step is to extract the DNA from the sample. If a DNA profile can be extracted, it will be analysed for up to 35 DNA Short Tandem Repeats (STR) markers, making it one of the most accurate DNA tests on the market.
STR markers are specific locations on a chromosome made up of sequences of repeated DNA. These STR markers are highly variable in length between individuals. Relationship tests are completed by comparing the observed DNA profiles from a group of people and considering the probability of any potential relationships. Paternity tests, for example, are completed by comparing the STR markers seen in the child with those seen in the alleged parents.
How are the samples collected?
The toothbrushes need to be used, and not cleaned, before being sent to the laboratory. Just wait till they're dry and pop in the post. We can also accept electric toothbrushes: just send us the head, not the whole toothbrush.
Both toe nails and finger nails can be used for nail DNA testing. As many nail clippings as possible are required as this provides more sample to be analysed. The advantage of using toe nails over finger nails is that there is less potential for contamination. However, please note that acrylic nails, Shellac and other forms of nail varnish may need to be removed as this may impact on the DNA results.
Why toothbrush and nail DNA testing?
A major advantage of toothbrush and nail clipping DNA tests is that samples can be collected in an unobtrusive manner. For example, children don't need to be made aware that a test is being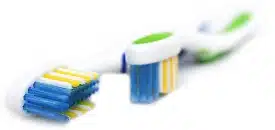 undertaken. This would be particularly beneficial in the case of a paternity dispute, for example, where using a mouth swab on older children could lead to awkward questions. Simply sending in their regular toothbrush or nail clippings instead allows for more discreet sampling.
It is important to note that consent is needed for anyone supplying their DNA for testing. Anyone over the age of 16 would have to sign their own consent, but a parent or guardian with parental responsibility could sign on behalf of a child undertaking DNA testing. This makes toothbrush and nail clipping DNA analysis particularly beneficial when there is a need to DNA test children without alerting them to the situation.
Another application of nail DNA testing is when an individual has passed away. This is in the event of the mouth swab method of DNA collection not working.
Consent would be needed from the next of kin or another qualifying relative to process a deceased individual's nail sample. For legal cases, such as in the case of probate or will disputes, the nails would need to be collected by a trained sample collector, funeral director or occasionally by a coroner. The sample collector must sign the sample collector declaration and a copy of the death certificate may need to be sent in as a form of identification.
As well as proving a biological relationship, the DNA profile produced by the nail DNA test could be made into a lasting memento of a loved one.
Advances in DNA technology continue to revolutionize the testing market. Toothbrush and nail clipping DNA analysis are two of the latest tools helping people answer their relationship queries.
To find out more about toothbrush DNA testing and nail DNA testing, please call 727-325-2902, email us at [email protected] or visit our website https://alphabiolabs.us/